SCMOS Scientific camera - PCO.edge4.2bi UV
for all UV applications
Providing you UV sensitive cameras has been our matter of course for many years. With the pco.edge 4.2 bi UV we're taking it to a new level: The specialized input window inside the camera helps you to achieve high QE in the ultraviolet wavelength range. The system itself is based on our tried and trusted pco.edge series with modern back illuminated sensor technology.
The adjustable cooling system allows you the use of air or water to cool the sensor down to -25 °C. At this temperature, the dark current is reduced to 0.2 e-/pixel/s.
High resolution and 6.5 x 6.5 μm² pixel size guarantees you high-quality images. The pco.edge 4.2 bi UV incorporates a powerful USB 3.1 interface complementing its performance.
Features of pco.edge 4.2 bi UV sCMOS camera:
- 190 nm - 1100 nm spectral range
- back illuminated 16 bit sCMOS sensor technology
- adjustable down to -25 °C air & water cooling
- high resolution 2048 x 2048 pixel
- pixel size: 6.5 x 6.5 µm²
- quantum efficiency up to 95 %
- maximum frame rate 40 fps @ full resolution
- dynamic range 26667 : 1
- lowest dark current (typ.) 0.2 e-/pixel/s
- rolling shutter
- exposure times from 10 μs to 20 s
- USB 3.1 Gen1 interface
Applications pco.edge 4.2 bi UV sCMOS camera:
Brightfield microscopy microscopy | fluorescence microscopy | digital pathology | single molecule localization microscopy | lightsheet fluorescence microscopy (LSFM) | calcium imaging | FRET | FRAP | structured illumination microscopy (SIM) | highspeed bright field ratio imaging | high throughput screening | high content screening | biochip reading | TIRF microscopy | spinning disk confocal microscopy | 3D metrology | ophthalmology | photovoltaic inspection | industrial quality inspection | lucky astronomy | bio luminescence | chemo luminescence
QE curves for pco.edge 4.2 bi UV sCMOS camera: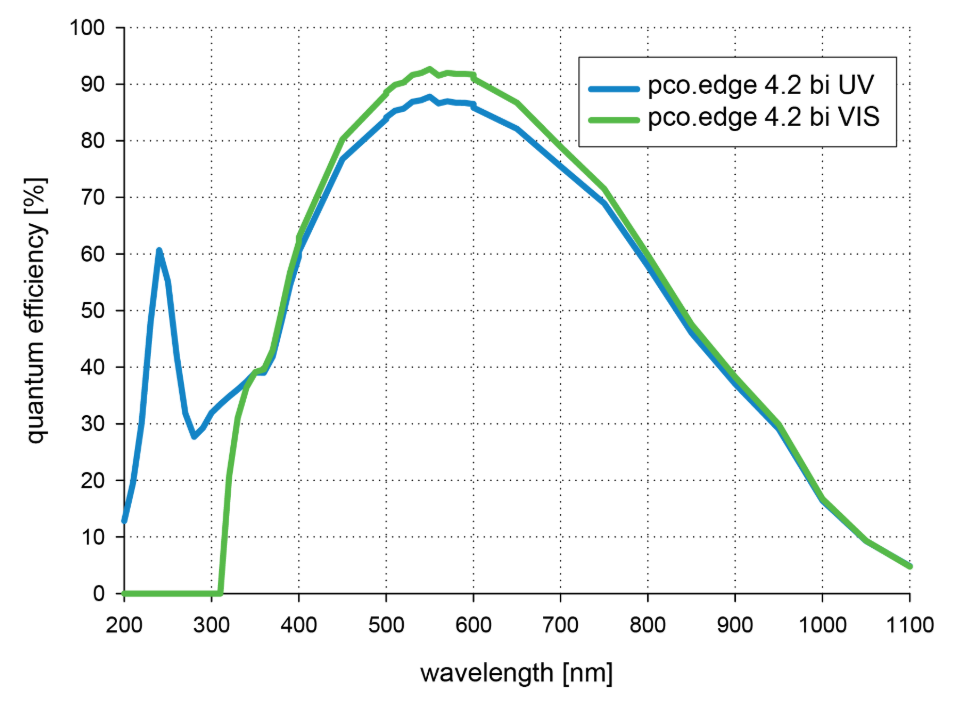 The next chart will help you select the UV camera that better fits your needs of high response in the ultraviolet:
pco.panda 4.2 bi UV

pco.edge 4.2 bi UV

pco.edge 4.2 bi XU

Sensor
sCMOS, back illuminated
sCMOS, back illuminated
sCMOS, back illuminated
Spectral range (nm)
190 - 1100
190 - 1100
1 - 1100 (1.2keV to 1.1 eV)
Resolution (px)
2048 x 2048
2048 x 2048
2048 x 2048
Pixel size
6.5 x 6.5

µm

6.5 x 6.5

µm

6.5 x 6.5

µm

Frame rate (full frame)
40 fps
40 fps
40 fps
Exposure time
10

µs - 500 ms

10 µs - 20 s
-
Shutter
RS
RS
RS
peak QE
~55% @240nm (max 90% @vis)
~60% @240nm (max 88% @vis)
-
Min. Read noise (e-)
1.8
1.8
1.9
Max. dynamic range
26667:1
26667:1
26667:1
Min. Dark current
42 e-/px/s
0.2 e-/px/s
0.2 e-/px/s
Cooling
Passive
Active (air & water)
Active (air & water)
Interface
USB3.1
USB3.1
USB3.1
RS=Rolling Shutter
GS=Global Shutter
GR=Global Reset