pco.edge5.5CLHS - low light applications and fast events
The pco.edge5.5-CLHS is equipped with an innovative scientific CMOS sensor providing crisp images and precise measurements.
The pco.edge 5.5 camera system is designed for users who require high resolution, high frame rates, best 16 bit dynamic range, good quantum efficiency, selectable shutter options or optionally a color sensor.
Camera Link HS guarantees uncompressed and secure data transfer. The latest standard of high-performance data interfaces enables the bridging of long distances via fiber optic cable.
Features of pco.edge5.5-CLHS:
- Thermal stabilization at +7 °C
- Extreme low readout noise of 0.6 e- med
- High resolution of 2560 x 2160 pixel
- Dynamic range of 30 000 : 1 (Camera Link HS)
- Quantum efficiency more than 60%
- Exposure times from 500 µs to 2 s (RS), from 10 µs to 100 ms (GS)
- Maximum frame rate 100 fps (RS/GR), 50 fps (GS)
- Rolling shutter / global reset /global shutter (on request)
- Camera Link HS
- Small form factor: 102 x 79 x 70 mm
- Air or water cooling (on request)
Advantages of the Camera Link HS standard:
- More bandwidth - up to 1187 MB/s
- More robust connection - no communication error with Forward Error Correction (FEC) and Fiber Optic Link (FOL)
- More distance - 300 m with multi mode fiber and SFP+ connectors or 10 km - with single mode fiber and standard LC connectors
- More flexibility - real-time trigger over cable with jitter < 12.8 ns and Plug and Play with GenICam and GenCP
- More open - full CLHS specification is downloadable for free
- More cost effective - use of standard network hardware components allows multi sourcing
Quantum efficiency curve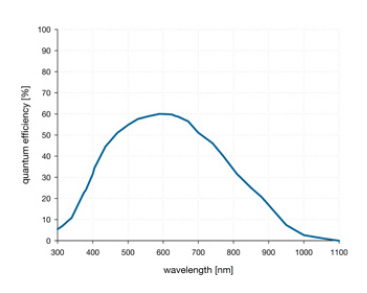 Applications:
Widefield microscopy | Fluorescent microscopy | Digital pathology | PALM | STORM | GSDIM | dSTORM | Superresolution microscopy | Lightsheet microscopy | Selective plane imaging microscopy (SPIM) | Calcium imaging | FRET | FRAP | 3D structured illumination microscopy | High speed bright field ratio imaging | High throughput screening | High content screening | Biochip reading | Particle image velocimetry (PIV) | TIRF | TIRF microscopy / waveguides | Spinning disk confocal microscopy | Live cell microscopy | 3D metrology | TV / broadcasting | Ophtalmology | Electro physiology | Lucky astronomy | Photovoltaic inspection